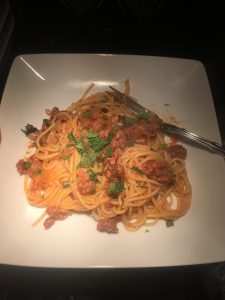 This is another favorite of my family. I know lamb is not utilized very much in the south but we absolutely love it. It's quick and easy and delicious.
I found this recipe in the Food and Wine Cooking From Scratch Pasta Cookbook several years ago. It's just a basic tomato sauce with spaghetti and ground lamb except this recipe uses cumin. Cumin is a spice often used in middle eastern and Mediterranean cuisine. It pairs beautifully with the lamb. You can find ground lamb pretty easily now at Publix or whole foods.
My 11 year old even loves this dish. If you have the fresh mint on hand, I would highly suggest using it, it really brings the dish together.