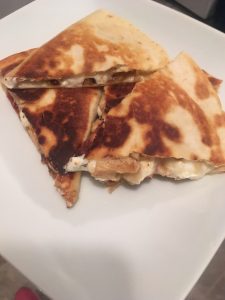 This recipe is a hit with all ages. It is fairly easy to make, especially if you are using leftover chicken that is already cooked. Even if you have to cook your chicken, it can all be done in less than 35 minutes. If you're feeling frisky, you can even make some salsa to serve with it. Some folks like sour cream and the other fixings with their quesadillas. We've found that these are tasty enough all on their own with no extras.
I like making my own fajita seasoning because that way I know exactly what's going into our food. No extra ingredients that I can't pronounce! You can always add additional vegetables or you can even take the chicken out and make it vegetarian or substitute a different protein. This is one of my favorite recipes for leftovers. All I really need to have on hand is tortillas. The other things are staples we tend to keep on hand.
You will notice in the recipe that I don't specify amounts for this one. That's because you can add however much you want in each tortilla. If you're cooking your own chicken, I usually use 2 nice sized chicken breasts. We also like to use the larger, 10 inch tortillas as you can just fold them over and cook 1 tasty quesadilla using 1 tortilla instead of 2.
We started using the goat cheese because my husband developed an allergy to cow's milk. I think it is even more delicious! I use a mixture of sharp goat cheese and soft goat cheese.
The sharp goat cheese can be found at Whole Foods.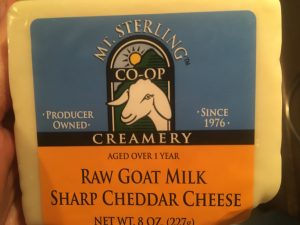 To make this recipe vegan so that my little man can eat it, I use daiya cheese on his quesadilla. It melts really well and tastes really good cooked into the quesadilla.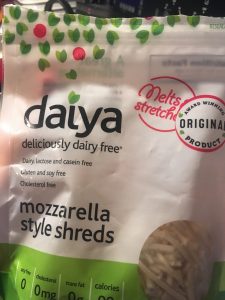 Ingredients for Fajita Spice Rub
1 teaspoon of salt
1 teaspoon of smoked paprika
1 teaspoon of white sugar
1 teaspoon of chili powder (optional)
1/2 teaspoon of onion powder
1/2 teaspoon of garlic powder
1/4 teaspoon cayenne powder
1/4 teaspoon of cumin
Ingredients for Quesadillas
---
Butter
Chicken breast or leftover cooked chicken
Fajita seasoning mix
Tortillas (gluten free if needed)
Soft goat cheese
Sharp goat cheese (if you are using cow's milk cheese, I recommend a Monterrey jack blend)
Vegan cheese if needed
Onion
Red pepper (or yellow or green, whatever your heart desires)
Instructions
Preheat about a tablespoon of olive oil in a skillet over medium heat. Halve your onion and then slice it thinly and slice your pepper into thin slices.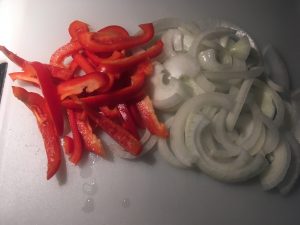 Add the pepper and onion to your preheated skillet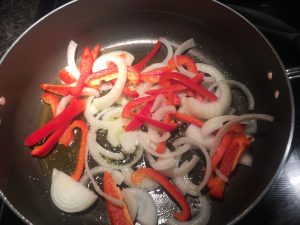 In a separate skillet, heat about 2 tablespoons of EVOO over medium heat. Sprinkle both sides of the chicken breast liberally with the fajita spice rub. Add the chicken breasts to the pan.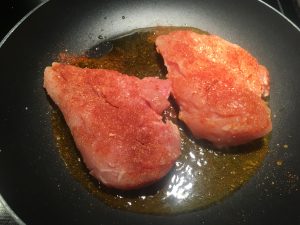 Cook the chicken breasts about 5 minutes per side or until it is cooked through. You should have a beautiful dark brown crust on the outside.
Meanwhile, your onion and pepper should be sauteing nicely in your other skillet. Keep stirring them until the onion is caramelized and both the peppers and onions are golden brown.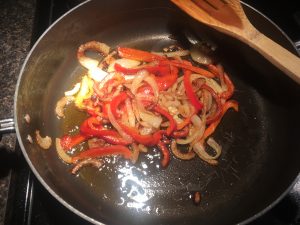 When the chicken is done cooking, remove it from the pan and transfer it to a cutting board. Let it rest. That may sound silly but it is very important to let cooked meat rest for about 5 minutes after removing it from the pan. This allows the meat to finish cooking on the inside and letting it rest will retain all of the yummy juices on the inside. So after it has rested, slice it into slices or chunks, whatever you want.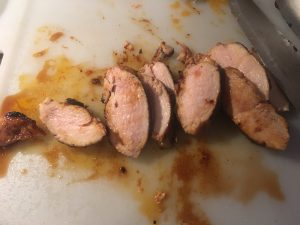 So now your ingredients should all be ready to go and you should be ready to start building your quesadilla. Before you start the first one, preheat a skillet to medium heat and add about 1/2 tablespoon of butter. Each time you cook a quesadilla, you will want to add about a 1/2 tablespoon of butter.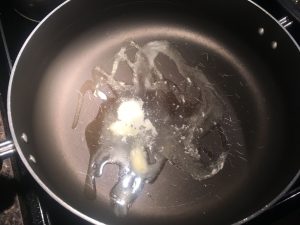 Start constructing your quesadilla. First take a plain tortilla, add the cheese, chicken and sauteed vegetables to one side of it. Fold it over and add it to your pan. You should be able to start construction on your next one and finish it by the time this one is finished and keep the cycle going until they're all finished.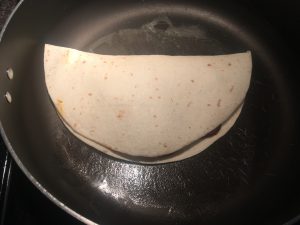 Cook it for about 3-4 minutes or until it is golden brown and then using a spatula, flip it over so the other side can get pretty and golden.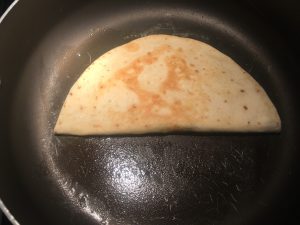 Once it is finished, remove it from the skillet and transfer it to a clean cutting board where you can slice it. Then repeat the process until they're all finished and ready to eat!