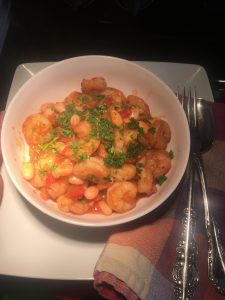 This dish is the perfect meal after a long day of physical activity. It's healthy, it"s full of protein and best of all – it is delicious! My best running buddy gave me a wonderful cookbook a few years ago for my birthday, The Runner's World Cookbook. It's a great collection of recipes for pre-run, post-run, recovery meals from a race, et. created by other runners. I have thoroughly enjoyed that cookbook and this is one of my favorite recipes from it. This is a recipe that lends itself to some creative embellishment if you so desire. A friend of mine added mushrooms to his dish and really liked it. I've added spinach instead of parsley and there are times it didn't have any green color to it at all because I didn't have any in my fridge. I've also changed up some of the amounts so its a bit different than the original recipe.
My son loves this meal but we have to sometimes bribe him to eat the beans and tomatoes too. He will pick all the shrimp out if you let him. And, if you have leftovers – you have to keep a close watch on them or the shrimp will go missing from those too!
Ingredients
1 1 /2 pounds of peeled and deveined shrimp
3 tablespoons of extra virgin olive oil
1 teaspoon of smoked paprika (Make sure you use the smoked, it makes a difference!)
4 cloves of fresh garlic, minced
1/2 teaspoon of red pepper flakes (or more if you want more spice)
1 bay leaf (left whole)
1 28 oz can of petite diced tomatoes, drained
1 tablespoon of tomato paste
2 cans of white beans, drained and rinsed (any type of bean will do)
1 cup of chicken broth
2 tablespoons of fresh parsley or 6 oz of spinach
Salt to taste
Instructions
Toss the shrimp with the smoked paprika and 1 tablespoon of oil.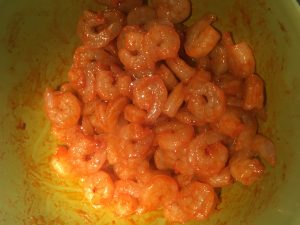 Heat a skillet over medium high heat and cook the shrimp until they are just done, about 5-7 minutes. Spoon it into a bowl.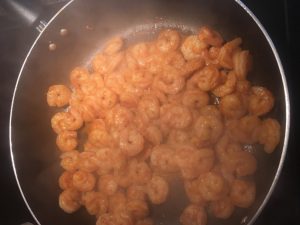 Reduce the heat to medium low and return the skillet to the heat and add 2 tablespoons of oil, the garlic, red pepper flakes and the bay leaf. Cook it all for about 20-30 seconds stirring constantly. Be careful not to let the garlic get brown. You want it to stay white but get nice and fragrant.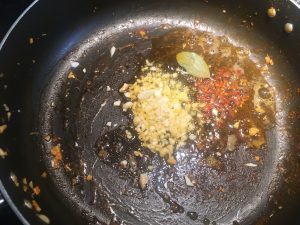 Increase the heat back to medium high. Add the tomatoes and cook for about 5 minutes allowing most of the liquid to evaporate. Add the tomato paste and let it cook for 2 more minutes.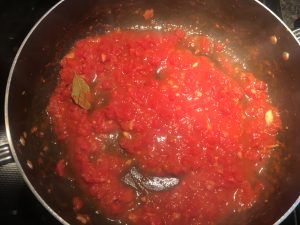 Add the white beans and chicken broth and bring it to a simmer (light and bubbly). Let it simmer for about 7-8 minutes.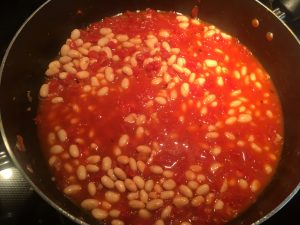 Stir in the shrimp and any accumulated juices as well as the parsley. Continue to let it simmer for about 5 more minutes until everything is heated through.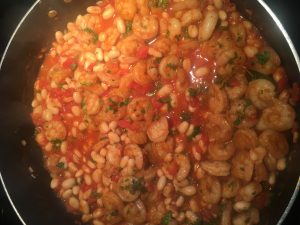 Remove bay leaf before serving and enjoy!