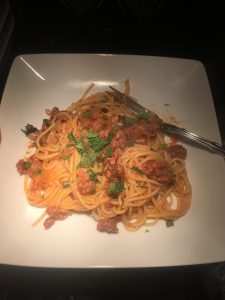 This is another favorite of my family. I know lamb is not utilized very much in the south but we absolutely love it. It's quick and easy and delicious.
I found this recipe in the Food and Wine Cooking From Scratch Pasta Cookbook several years ago. It's just a basic tomato sauce with spaghetti and ground lamb except this recipe uses cumin. Cumin is a spice often used in middle eastern and Mediterranean cuisine. It pairs beautifully with the lamb. You can find ground lamb pretty easily now at Publix or whole foods.
My 11 year old even loves this dish. If you have the fresh mint on hand, I would highly suggest using it, it really brings the dish together.
Ingredients
1 large onion, chopped
2 cloves of fresh garlic, chopped
2 tablespoons of cooking oil
1 tablespoon of ground cumin
2 cups of tomato sauce
2 teaspoons of salt
3/4 pound of spaghetti
1/2 teaspoon of fresh ground black pepper
1/3 cup of fresh chopped mint
Instructions
Using a large frying pan, cook the onion over medium low heat until it is translucent.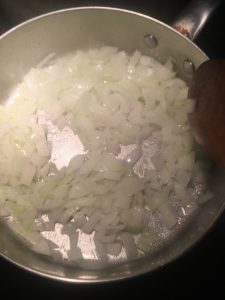 Next, add the garlic and lamb to the pan and cook the lamb until it is no longer pink, about 5-7 minutes.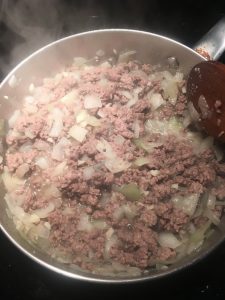 Next, stir in the cumin, tomatoes and salt. Cover it and let it simmer for about 15 minutes while your spaghetti cooks.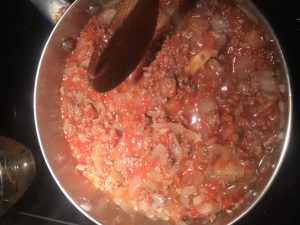 After it has had a chance to simmer, add the mint, spaghetti and cracked pepper. Stir to combine.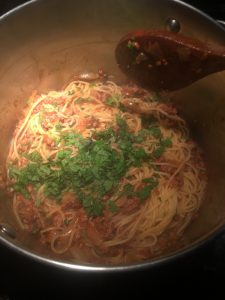 Plate it up and enjoy! You can also save some mint to sprinkle on the top for presentation.