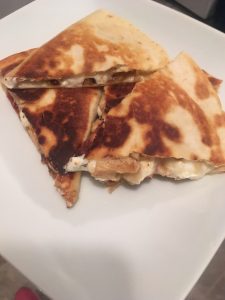 This recipe is a hit with all ages. It is fairly easy to make, especially if you are using leftover chicken that is already cooked. Even if you have to cook your chicken, it can all be done in less than 35 minutes. If you're feeling frisky, you can even make some salsa to serve with it. Some folks like sour cream and the other fixings with their quesadillas. We've found that these are tasty enough all on their own with no extras.
I like making my own fajita seasoning because that way I know exactly what's going into our food. No extra ingredients that I can't pronounce! You can always add additional vegetables or you can even take the chicken out and make it vegetarian or substitute a different protein. This is one of my favorite recipes for leftovers. All I really need to have on hand is tortillas. The other things are staples we tend to keep on hand.
You will notice in the recipe that I don't specify amounts for this one. That's because you can add however much you want in each tortilla. If you're cooking your own chicken, I usually use 2 nice sized chicken breasts. We also like to use the larger, 10 inch tortillas as you can just fold them over and cook 1 tasty quesadilla using 1 tortilla instead of 2.
We started using the goat cheese because my husband developed an allergy to cow's milk. I think it is even more delicious! I use a mixture of sharp goat cheese and soft goat cheese.