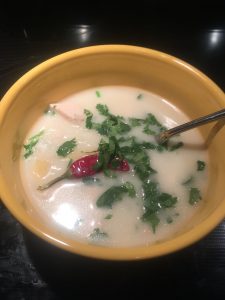 I've been cooking this Thai soup for at least 10 years. We love all kinds of food but we really love Thai food. We had many a date at the Thai restaurant in Huntsville before we got married. In fact, it's still there and still a tiny little restaurant that serves amazing Thai food. If you're ever in 5 points in Huntsville, AL, we highly recommend The Thai Garden. Anyway, we fell in love with Thai coconut soup many years ago. This recipe originated from the Food and Wine Cooking From Scratch with Herbs cookbook. However, I've changed it considerably over the years. It is so delicious and the lemon and ginger broth smell so amazing when it's cooking. It's a fairly easy meal to make and it is very yummy as a leftover the next day.
One bit of advice if you plan to serve it to guests – you may want to find the lemon peel and ginger chunks before you serve it. It won't hurt you if you don't, in fact we like them in there. I like crunching down on the ginger for a blast of flavor. But, if you're not expecting it, it might be quite the surprise.
When it comes to rice, I highly recommend using jasmine or basmati rice. It costs a little more but the flavor and texture make ALL the difference in the world. If you don't have cilantro, you can omit it without losing a whole lot of flavor. But if you can help it, do not skip on the fresh lime juice. It makes all the difference in the chicken marinade and then later right before you serve it. I think the fresh squeeze of lime juice right before you serve it wakes up all of the flavors in the soup and melds them together beautifully.