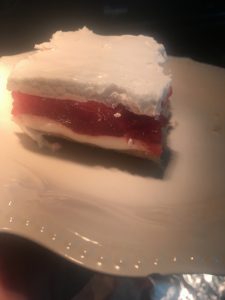 Here is another strawberry recipe, it's time for round 2! I am loving this strawberry season! One thing strawberries pair really well with is dairy – whipped cream, cream cheese, cottage cheese, etc. But, my husband can't eat dairy anymore. He developed an allergy to it about 5 years ago and he has really missed it. Especially when it comes to desserts. So I love to experiment with dairy substitutes in the hopes that I can create something delicious that he can enjoy. I've had several misses and a few hits. This one I must say though – was pretty darn amazing.
You can find many of the dairy substitutes at Publix, Sprouts, and/or Kroger. You can definitely find them all at a Whole Foods Market. My picture as usual isn't the greatest but it tastes much better than the picture looks! This recipe takes a little extra prep time but let me tell you – it is worth ever minute! There was not one single morsel left of this dish after we got a hold of it!
Ingredients
Crust:
8 tablespoons of vegan/dairy free butter
1 cup of all purpose flour
1/2 cup of walnuts
******Cream Cheese Layer:
8 oz of tofutti cream cheese – dairy free
1 cup of powdered sugar
1 cup of coco whip
******
Strawberry Layer:
1 cup of water
1 cup of white sugar
3 tablespoons of corn starch
1 box of strawberry jello
4 cups of strawberries, sliced
*****
Top layer:
1 1/2 tubs of coco whip
extra strawberries and walnuts for garnish (optional)
Instructions
Preheat the oven to 350. Spray an13 x 9 inch square pan with nonstick cooking spray. Put the walnuts into a mini chopper to chop them finely. Then, combine the melted butter, flower and crushed walnuts into a bowl and mix until a nice, soft dough forms.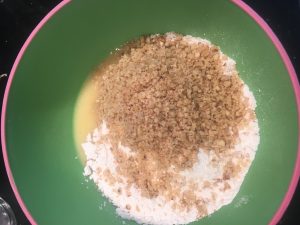 Spread the dough into the prepared baking dish. Use your fingers to spread it out evenly across the entire pan. Bake it for 15 minutes then let it cool while you work on the other layers.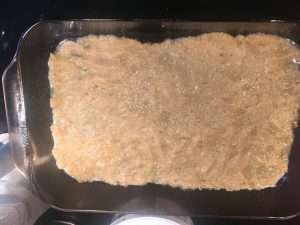 For the cream cheese layer, make sure you are using a dairy free cream cheese. We love this brand.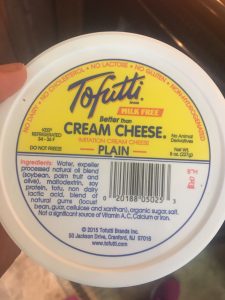 Add it to the bowl and using a mixer, beat it until it is nice and fluffy. Slowly add the powdered sugar.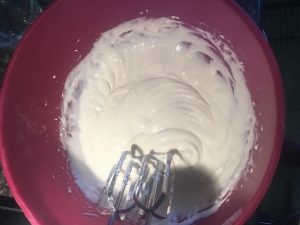 Next, add the cup of coco whip, we love this brand – it is so delicious.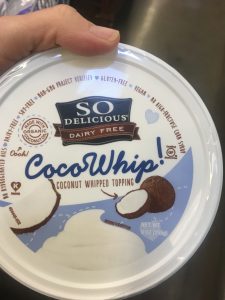 Next, spread the cream cheese layer on top of the crust layer and put it in the fridge immediately to chill.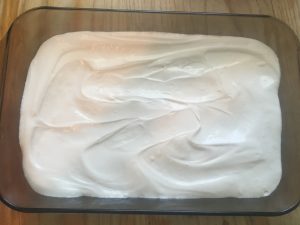 Now it is time for the strawberry layer. Heat the water, sugar and cornstarch in a medium saucepan over medium high heat. It should quickly start to look like a thick paste – this is normal. Add jello powder and remove from the heat.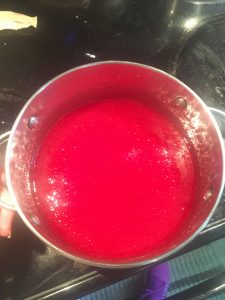 Let it cool for about 4-5 minutes then add the strawberries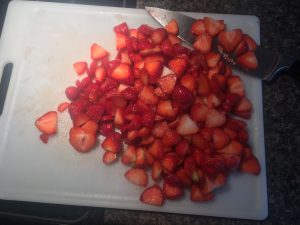 Combine the jello mixture with the strawberries and pour on top of the cream cheese layer. Put it back in the fridge to chill for 30-45 minutes.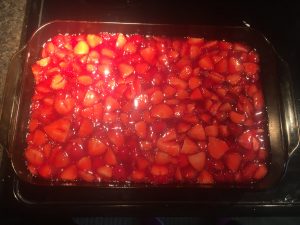 Last, add the 1 1/2 tubs of coco cream on top of the strawberry layer. Put it back in the fridge to chill for about 2 hours until everything is completely set. Add your decorations if you want or just leave it plain on top. I was so excited to eat mine that I didn't even think about making it look extra pretty.