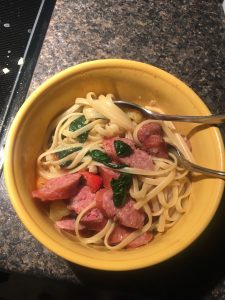 This recipe uses one my family's favorite foods, conecah sausage. Conecah sausage is made in Conecah county, Alabama. It is absolutely delicious. If you haven't tried it before, I highly recommend it. It is smoked sausage, but we think it is better than any national brand out there. We like it grilled, sauteed by itself or with peppers and onions. It is great to have on hand when you need a quick, filling meal.
This is a recipe that I created a couple of years ago. You see, I like to run. I like to run longer distances actually. I am currently training for my 2nd marathon and I've run 5 half marathons and several 15, 10 and 5K's. I like to do my long runs on Saturday mornings and if you are running really long (10+ miles), it helps to eat a lot of carbohydrates the day before. So I started experimenting with what sounded good to my brain… garlic, fresh tomatoes, fresh spinach, and pasta. Oftentimes, it was whatever I had around the house. My favorite version of this dish is with 1/2 pound of chopped bacon. You could also put in shrimp or grilled chicken. It is just a simple pasta dish with some fresh veggies and a protein. Even if you aren't running 10+ miles, this dish is usually very popular with the whole family.
Ingredients
1 pound of pasta (I like spaghetti or linguine)
1 pound of conech sausage or if you prefer bacon – 1/2 pound of bacon
3 tablespoons of dairy free butter
1 teaspoon of vegetable oil
3 cloves of garlic
1/2 cup of chicken broth, more if needed
1 cup of cherry tomatoes
About 4 cups of fresh baby spinach
Salt and pepper
Instructions
Before you get started, put a large pot of salted water on to boil for your pasta. Then, in a large, nonstick skillet heat your vegetable oil over medium high heat. Cut the conech sausage into a few lengths and cook them in the skilet for about 5-7 minutes or until they are nice and brown and cracked a little on the outside.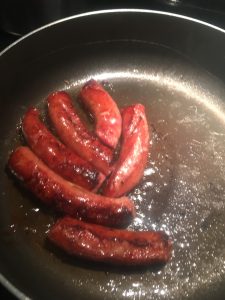 Remove them from the skillet and let them cool on a cutting board. If I am using bacon instead, I usually skip the first step and cook the bacon in the microwave. So if you are using bacon, you can follow the remaining directions below but add it in at the very end. If you are using sausage, please continue! Add your butter to the pain and turn the heat down to medium low. Add your garlic and saute it gently for about 20 seconds. You do NOT want your garlic to turn brown — that will give it a bitter taste. You just want it to get fragrant. So after about 20-30 seconds of sauteing the garlic, add the chicken broth and tomatoes. I would definitely recommend taking the time to slice your tomatoes in half. This cuts down on the cooking time. I got a little lazy and just washed mine. You also don't have to use two different colors. I almost always have red and yellow on hand as my child eats them like candy.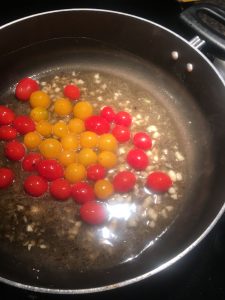 Increase your heat to medium and continue to cook the tomatoes, garlic and chicken broth for about 7-8 minutes or until the tomatoes start to get tender. Then, add your fresh spinach and about 1/2 teaspoon of kosher salt to the skillet. Continue stirring and it will start to wilt. At some point, your water will be boiling – go ahead and cook your pasta. This dish takes about 20 minutes from start to finish.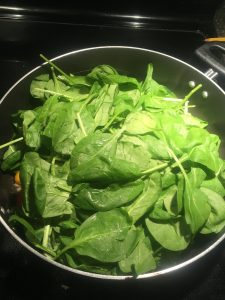 After your sausages have cooled, slice them into 1/4 inch slices, I like to slice my diagonally, it makes them look "fancy." If you want smaller pieces, you can slice them lengthwise first then slice them into 1/4 inch slices. Again, I got a little lazy so my pieces are bigger.
Your spinach should be wilted down nicely now, so add your sausages to the pan. Stir the dish and let everything combine together.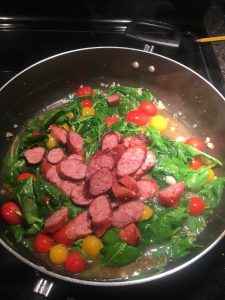 Your pasta should either be cooked or almost ready. Once it is tender, strain it and add it to the dish. Make sure you taste it before you serve it and add salt and pepper as needed. I find mine sometimes needs a little salt before I serve it. It's always easier to add than it is to take away!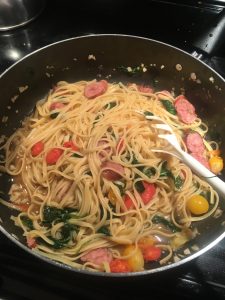 I love this dish because it is super quick, fresh and homemade, and easy! Your noodles should soak up any remaining liquid in your pan. If you need some more liquid, you can always add a little chicken broth to the dish. Chicken broth also comes in handy to revive leftovers the next day and make the pasta as yummy as it was the night before.