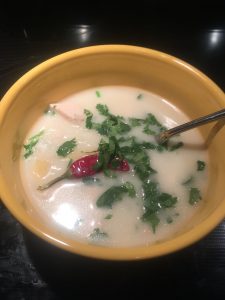 I've been cooking this Thai soup for at least 10 years. We love all kinds of food but we really love Thai food. We had many a date at the Thai restaurant in Huntsville before we got married. In fact, it's still there and still a tiny little restaurant that serves amazing Thai food. If you're ever in 5 points in Huntsville, AL, we highly recommend The Thai Garden. Anyway, we fell in love with Thai coconut soup many years ago. This recipe originated from the Food and Wine Cooking From Scratch with Herbs cookbook. However, I've changed it considerably over the years. It is so delicious and the lemon and ginger broth smell so amazing when it's cooking. It's a fairly easy meal to make and it is very yummy as a leftover the next day.
One bit of advice if you plan to serve it to guests – you may want to find the lemon peel and ginger chunks before you serve it. It won't hurt you if you don't, in fact we like them in there. I like crunching down on the ginger for a blast of flavor. But, if you're not expecting it, it might be quite the surprise.
When it comes to rice, I highly recommend using jasmine or basmati rice. It costs a little more but the flavor and texture make ALL the difference in the world. If you don't have cilantro, you can omit it without losing a whole lot of flavor. But if you can help it, do not skip on the fresh lime juice. It makes all the difference in the chicken marinade and then later right before you serve it. I think the fresh squeeze of lime juice right before you serve it wakes up all of the flavors in the soup and melds them together beautifully.
Ingredients
1 pound of boneless, skinless chicken breast cut into small chunks
4 tablespoons of Asian Fish Sauce
2 tablespoons of fresh lime juice (from the juice of 1 lime usually)
6 cups of chicken broth
3 long strips of lemon zest
1, 2 inch piece of ginger cut into chunks
1 cup of jasmine rice, uncooked
fresh chile peppers or jalopeno peppers or dried chiles
4 tablespoons of chopped cilantro
1 lime cut into wedges for serving
Instructions
To prepare the ginger, you simply peel the outer skin and slice it into chunks. It will be slightly fibrous as you slice it but that's okay, it will get tender as it adds incredible flavor to the soup. For the lemon, simply use a very sharp knife to slice a very thin layer of the peel away – you want as little white on the inside of the peel as possible. I usually end up with a small strip on the middle of mine and that's okay. You can see the lemon peels on the left and the ginger on the right in the picture below.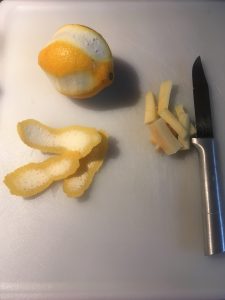 In a large saucepan or stew pot, add the chicken broth, lemon peels and ginger. Bring it to a simmer and let it simmer for about 5 minutes.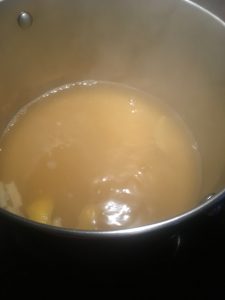 When it comes to chicken broth, I really like to use the cartons of broth. They keep in your refrigerator for a few weeks after you open it. I always try to write the date on the top so I know how long it's been in my fridge. Because seriously, who can remember those things?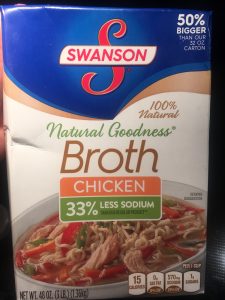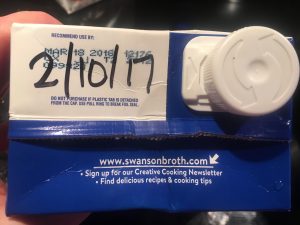 Then add the cup of rice. Bring it back to a simmer and let it cook, uncovered for about 20 minutes. While it is cooking, chop your chicken into chunks and put it a glass pan with the fish sauce and lime juice. Set it aside for a little later.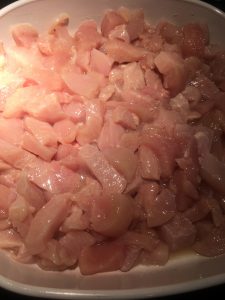 One little tidbit for juicing a lime that I learned years ago. Slice your lime in half with the stem end to the side. Then stick a fork in it and turn it while squeezing it. You get so much more juice than just trying to squeeze it by hand. Or, if you have a fancy kitchen gadget for that – more power to you.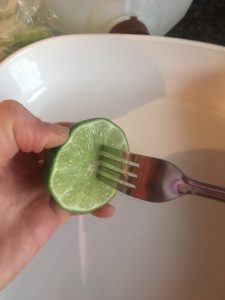 So by now your rice should be just about done. Add the coconut milk to your soup and bring it back up to a simmer. A simmer by the way is where your soup is bubbling very gently – not a hard boil.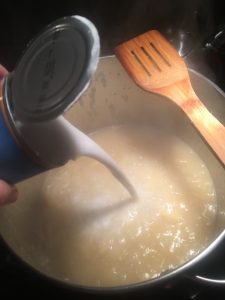 After it has simmered for about 2-3 minutes, add the chicken and marinade and cook for about 5 minutes until your chicken is done.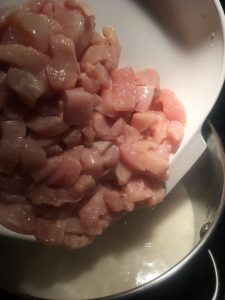 Once your chicken is done, your soup is almost ready to serve. Stir in all but a small amount of the cilantro and your pepper(s) if using.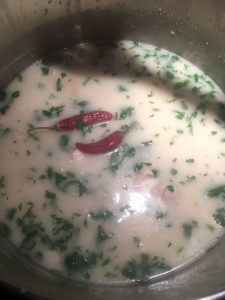 Save just a little cilantro to sprinkle on top of the bowls before you serve it. Also, don't forget your lime wedge to serve with each bowl. Enjoy!