It is strawberry season in middle Tennessee! Hooray! Just a little warning, the next few posts may be strawberry related. We love strawberries around here, especially my son. I had hoped to take him strawberry picking this year but an unfortunate fracture in his foot and the resulting cast prevented us from traipsing through the strawberry fields. But that did not keep us from partaking of the strawberries as they offer them already picked as well.
This was the first recipe that I made when we got home with our fresh strawberries. We were ready for a strawberry treat and this one is so quick and easy. This version is completely vegan so it is safe for those allergic to dairy and/or egg. We like serving ours with coco whip (coconut based whipped cream – dairy free). I think this recipe took maybe 30 minutes from when I started to when I put it in the oven. It is such a beautiful dish too! Look at the beautiful bright red from the strawberry. No artificial dyes in this beautiful dish!
Ingredients
2 pounds of fresh strawberries, hulled and sliced
1/4 cup of sugar
2 tablespoons of corn starch
******
Topping:
1/2 cup of quick oats
1 cup of all purpose flour
1/3 cup of brown sugar
1/3 cup of sugar
1/4 teaspoon of salt
8 tablespoons of vegan, dairy free butter
Instructions
Preheat the oven to 350. Spray an 8×8 inch square pan with nonstick cooking spray. Combine the sliced strawberries, sugar and cornstarch in a bowl.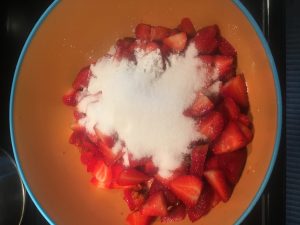 Stir until it's combined then pour it into the prepared 8×8 cooking dish.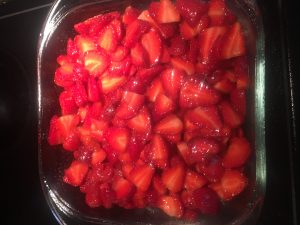 In a separate bowl, combine all ingredients except the butter.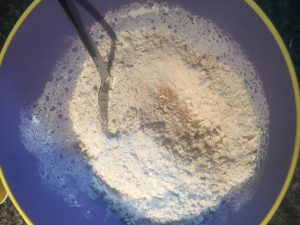 Add the melted butter and stir until it is a golden brown mixture.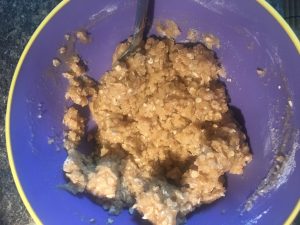 Drop it in little spoonfuls on top of the strawberries. Don't worry about spreading it out so much, it will spread as it cooks. Just do the best you can.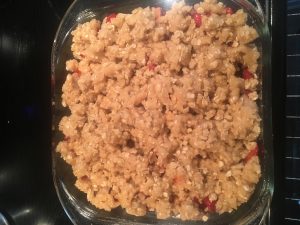 Bake in the center of your oven at 350 degrees for about 45 minutes to an hour – or until the topping is golden brown and the strawberry mixture is bubbly.
Let it cool for about 30-45 minutes. This will allow the strawberry juices to thicken. Then serve with a dollop of coco cream and enjoy! It will keep in the fridge for about 7 days but it will likely not last that long!