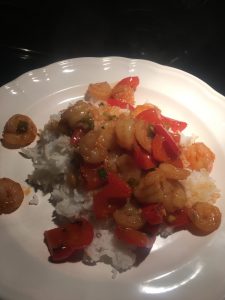 If you're like me, sometimes you just need a good fix of Chinese Food. We used to order take out but that can get expensive over time! I started trying to experiment with my own recipes about 10 years ago. We love this one, it uses shrimp and I think it's better than what you can get at most take out restaurants. It makes quite a bit so you'll have plenty of leftovers if you don't have a large family. I also love that it is gluten free, egg free and dairy free. Finding a Chinese dish free of those three things can be difficult! Our son's dairy and egg allergies are so severe that we can't even take a chance on eating Chinese food out and about. Even a small cross contamination could send him to the emergency room. Szechuan cuisine is typically very spicy and originated in the
Sichuan province of China. We have younger tastebuds at our dinner table so this recipe has a very small kick to it. You can definitely increase the amount of red pepper flakes to increase your heat. This takes a little more time than most of my recipes, about 45 minutes from start to finish. But oh my it's worth it when you taste it!
Ingredients
6 tablespoons of cooking sherry
2 tablespoons of oyster sauce
3 tablespoons of soy sauce
1/2 teaspoon of salt
6 tablespoons of ketchup
1 cup of chicken broth
2 red bell peppers
2 1/2 pounds of shrimp
2 teaspoons of cornstarch
6 tablespoons of vegetable oil
6 cloves of fresh garlic, minced
2 tablespoons of fresh ginger, minced
4 green onions, white parts separated from the green parts
1/2 teaspoon of red pepper flakes
1 teaspoon of Asian sesame oil
Instructions
With a lot of my recipes, I like to prepare as I go. But for this recipe, I highly recommend preparing everything in advance before you start cooking. Once you start cooking, things go fast! You can go ahead and get your rice ready to cook. If you're using a rice cooker, go ahead and put it on. If not, I would start the rice about the time you finish the prep work – right before you start cooking in the wok.
First, combine 2 tablespoons of the cooking sherry, the oyster sauce, soy sauce, ketchup, salt and chicken broth in a small bowl.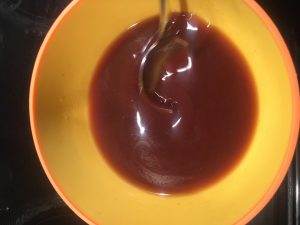 Cut the red peppers into small chunks. Then, mince up the garlic, white part of the green onion and fresh ginger. You can also go ahead and slice the green parts of the green onion at this point but keep them a little separate from the garlic, white parts of the onion and fresh ginger.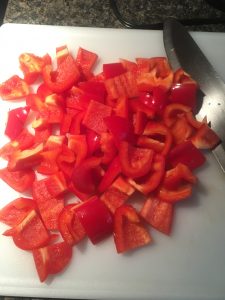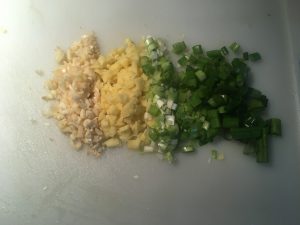 Next, combine the shrimp with the 4 tablespoons of sherry and the cornstarch.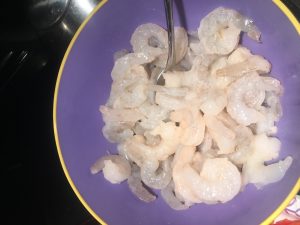 Now you're ready to cook! If you have a wok, definitely use it here. If you don't, do not fret – I used my stainless steel skillet for years until I got a wok for my birthday this past February. It will work just as well. Heat the wok/pan over medium high heat. You want the pan to be very hot. Add the peppers – no oil or anything. You want them to char somewhat. They will pop and sizzle but that is normal. Cook them until they are blackened around the edges. It usually takes me about 8-10 minutes to get mine to look like this: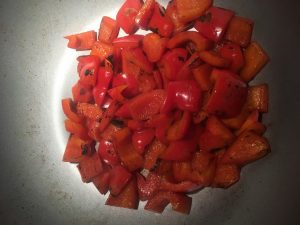 After the peppers are blackened, remove them from the pan. add 3 tablespoons of oil to the pan. Your pan should still be very hot at this point. Add the shrimp and marinade Cook until the shrimp are pink, about 5 minutes.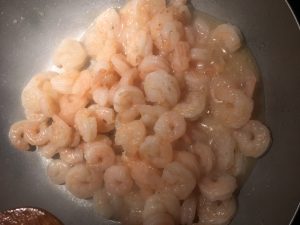 Remove the shrimp from the pan (and any lingering liquid). Put it in a bowl and set it aside. Reduce the heat to medium and add the last 3 tablespoons of oil. Add the garlic, ginger, white part of the onion and the red pepper flakes. Let them sizzle in the oil for about 30 seconds. You want the garlic to be fragrant and white, NOT browned.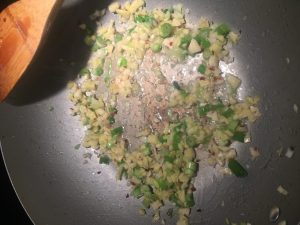 After about 30 seconds, add the red peppers and cook for about 2-3 minutes.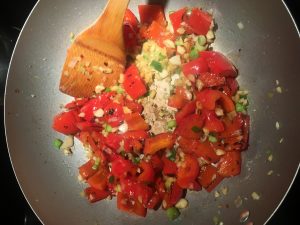 Now, add the oyster sauce/soy sauce/chicken broth/sherry/ketchup/salt marinade. Increase the heat to high and and bring it to a boil. Let it boil for about 4-6 minutes, stirring constantly. It should thicken up nicely.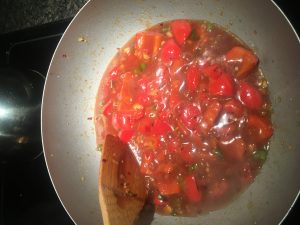 Then, add the shrimp and the sliced green tops of the onions to the pan.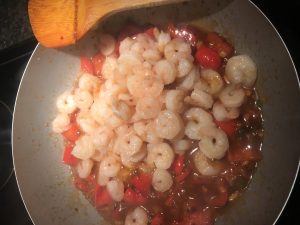 Stir the whole dish for about 2 minutes. Drizzle the sesame oil over the top and remove it from the heat. Serve it on top of a pile of your favorite rice. We love jasmine rice and basmati rice.