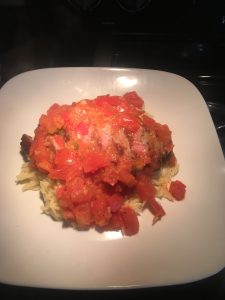 Steak Pizzaiola is a classic Italian dish with fresh tomato sauce. It's often served with steak or sirloin. You can serve it with potatoes, rice or even spaghetti but we love it with orzo. Orzo is a rice shaped pasta and I love the texture of everything together – a bite steak, the fresh tomato sauce and the small pieces of pasta just go together perfectly.
This is one of the first dishes I made when we got married. Justin and I both love this dish and now Atticus does too. It's fairly easy to make and I love it year round – especially in the summer time with fresh garden tomatoes. But, any tomatoes will work – I used Romas this time because that's what I had on hand.
I love that it is naturally dairy and egg free and you can easily make it gluten free as well. I also love that it incorporates fresh ingredients which really come through when you sit down at the table to enjoy it. It is quite an easy dish to make. You could also use just about any cut of steak. We like ribeyes and they were on sale so that it what I used last night.
Ingredients
6 tablespoons of extra virgin olive oil
4 cloves of fresh garlic, minced
3 pounds of tomatoes, diced
6 sprigs of fresh oregano
1 teaspoon of fresh oregano, chopped
1 1/2 teaspoon of salt
About 2 pounds of steak
Instructions
Heat 4 tablespoons of EVOO over medium heat in a large saucepan. Add the garlic and cook it for about a minute make sure NOT to brown it. You want it to still be white and fragrant. If you are serving your pizzaiola over orzo or other pasta, now would be a good time to put a large pot of water on to boil.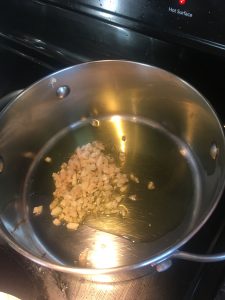 Add the chopped tomatoes, I don't usually peel mine, I just chop and go.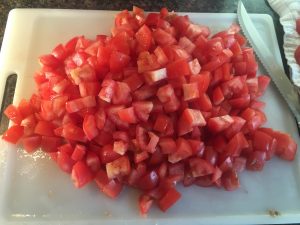 Along with the tomatoes, add the oregano sprigs, and a teaspoon of the salt. Bring it up to a simmer – where the tomatoes are bubbling and partially cover it and reduce the heat. Let it simmer for about 15 minutes, this will allow the sauce to thicken.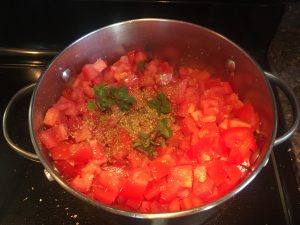 While that is simmering, it is time to cook the steaks! Heat the last 2 tablespoons of oil over medium to medium high heat. Season your steak with the remaining salt and some fresh cracked pepper.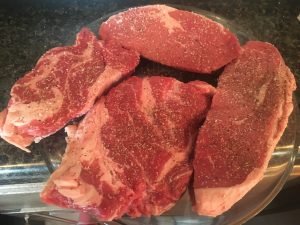 Now here is where I failed on my picture taking! I got so wrapped up in the beauty of the steaks that I forgot to take pictures of them cooking. But, with that size of steak, I usually cook them 5 minutes per side for medium rare. If you like yours more done, you should cook it longer. Only turn them one time. Put them in the skillet, set a timer for 5 minutes and walk away! Do not touch them or turn them until that timer goes off. Then, turn them once – using tongs if you can and then set the timer again and walk away. I like using tongs because a fork will pierce the steak and cause the juices to run out making it a little more dry. Also, only turning it once allows it to cook evenly on both sides and get a great crust which will hold in those yummy juices. Once you've finished cooking the steaks – transfer them to a cutting board and let them rest for 5 minutes before you cut them. Yes, I said rest. Steaks need to rest after you cook them. It allows them to cool down internally which will cause them to retain more juices which will result in a juicy steak! So, once they have rested, you can slice them into thin slices.
During this time, your sauce should be thicker and your pasta should be about finished. Drain your pasta and put a spoonful of sauce on top (fish out the oregano sprigs if you want to) and then top with the steak. Top it with the chopped oregano if you have it. I was short on oregano (my plants were still dormant from winter) so mine doesn't have the chopped on top.