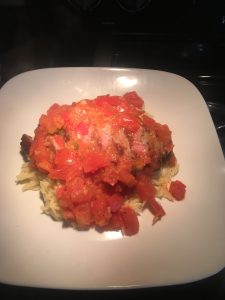 Steak Pizzaiola is a classic Italian dish with fresh tomato sauce. It's often served with steak or sirloin. You can serve it with potatoes, rice or even spaghetti but we love it with orzo. Orzo is a rice shaped pasta and I love the texture of everything together – a bite steak, the fresh tomato sauce and the small pieces of pasta just go together perfectly.
This is one of the first dishes I made when we got married. Justin and I both love this dish and now Atticus does too. It's fairly easy to make and I love it year round – especially in the summer time with fresh garden tomatoes. But, any tomatoes will work – I used Romas this time because that's what I had on hand.
I love that it is naturally dairy and egg free and you can easily make it gluten free as well. I also love that it incorporates fresh ingredients which really come through when you sit down at the table to enjoy it. It is quite an easy dish to make. You could also use just about any cut of steak. We like ribeyes and they were on sale so that it what I used last night.