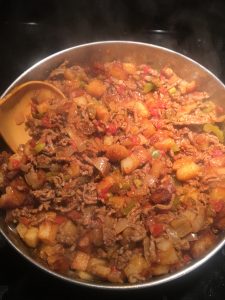 Picadillo is a classic Cuban dish and we absolutely love this version of it. I found the recipe in the Food and Wine Cooking From Scratch One Dish Meals cookbook years ago. I've made it several times and tweaked it to accommodate our family's dietary restrictions. This dish is dairy free, egg free, and gluten free. You can serve it with warm, flour tortillas or you can just eat it plain. We often eat it without tortillas and it is still just as delicious. It is even better warmed up the next day.
Ingredients
1 1/2 pounds of ground beef
1 large onion, chopped
1 green pepper, chopped
4 cloves of fresh garlic, minced
1/2 cup of beer
1 can of chopped tomatoes (15 oz can)
2 tablespoons of tomato paste
2 teaspoons of ground cumin
1 1/4 teaspoon of ground coriander
1 3/4 teaspoons of salt
1/4 teaspoon of Tabasco sauce
2 tablespoons of vegetable oil
3 baking potatoes, peeled and cut into small cubes
1/2 cup of golden raisins
1/4 cup of green pitted olives, chopped
Instructions
Cook your ground beef in a large, stainless steel frying pan over medium high until it is no longer pink. Add the chopped onion, bell pepper and garlic. Cook for about 5 minutes until the vegetables start to soften.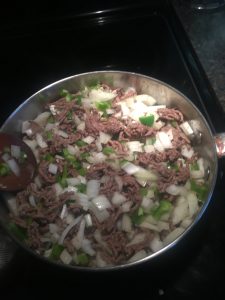 Next, add the beer, tomatoes, tomato paste, cumin, coriander, salt and Tobasco sauce. Bring the mixture to a boil.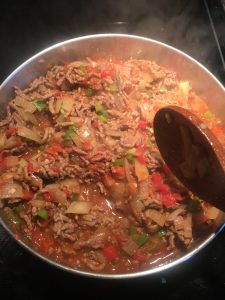 After you bring it to a boil, give it a good stir then put the lid on and reduce the heat to medium low. Let it simmer there for 15 minutes, just leave the lid on and work on the potatoes.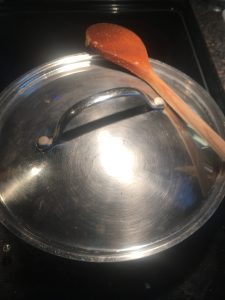 Heat your oil in a nonstick skillet over medium high heat. Add the potatoes and stir them around in the oil until they are a nice, golden brown.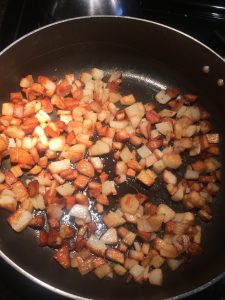 We love the golden raisins just as a snack but especially in cooking. You may want to omit them because let's be honest – raisins in a savory dish? Really? but I encourage you to try them if you plan to cook this meal. They really, really make the dish! Also, on the green olives, I use the green olives with the red pimentos. I just fish out the pimentos and chop up the green olives.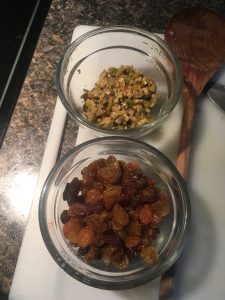 Your potatoes should be done by now, add those and the olives and raisins to your dish. Stir it thoroughly and then replace the cover and cook it about 10 minutes. Then it should be ready to serve! You can serve it with flour tortillas or you can eat it just plain. My little guy loves this dish and likes his on a plate and with a fork.