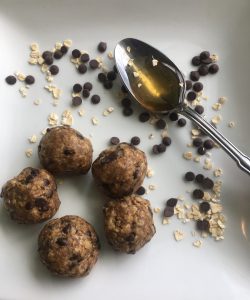 These Peanut Butter Chocolate Chip Chia Bites are one of my favorite go to recipes for a high protein, delicious snack. They are super easy and very healthy as well! This is great to have around to snack on and it's even great to carry on the trails for a run or hike. Make sure you put them in a hard container like a Tupperware so they don't get mashed.
I always make mine dairy and egg free so that my son can eat them so they are naturally plant based. I like to use the mini chocolate chips by Enjoy Life. The bigger chips are too bulky and too crunchy for my taste.
It takes a little time to roll out all the little peanut butter chocolate chip chia bites but the time and effort is well worth the end result.
Ingredients
3 c of dry, quick cook oats
1 1/2 c of mini chocolate chips
1 1/2 c of peanut butter
1 1/2 c of ground flax seed
1 c of honey
3 tsp of vanilla
3 teaspoons of chia seeds
Instructions
Put all of your dry ingredients into a large bowl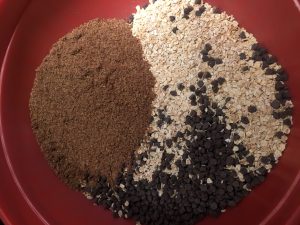 Add the wet ingredients.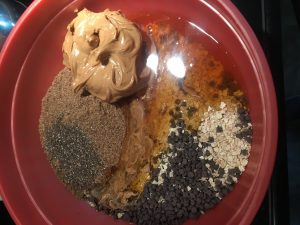 Using clean hands, mix it all together until it is all combined. Then put it in the fridge for at least 30 minutes. Depending on how my day is going, sometimes mine will chill for hours. Other times I've skipped the chilling step. If you do that, your mixture will be harder to roll into a ball but it can be done. After the mixture has chilled, roll it into small bite-size or two bite-size balls. Place the balls on a very large baking sheet covered in parchment paper. Chill the balls once more in the fridge for at least 30 minutes (this chilling step is essential). Then store them in a container in the refrigerator for up to 2 weeks. This recipe will make around 40-50 bites.