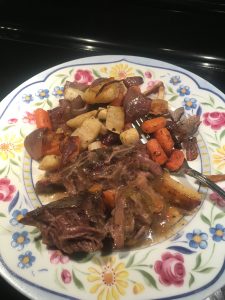 My go to pot roast recipe 20+ years ago included a ready to go pouch of seasoning… I didn't trust myself to make it from scratch. Well, those packets have dairy in them. And many other "quick and easy" pot roast recipes are the same way or they have a lot of processed foods in them which can make the dish very high in sodium. So when I was nursing my son, I started experimenting with various ways to make a pot roast using fresh ingredients. The recipe below has been tweaked many times over the years. I often change up the way I serve it as well. In the summer time or when I'm rushed, I'll toss in potatoes and carrots for the last hour of cooking. If it's winter, I will often cook roasted root vegetables in the oven. It would even be tasty with some fresh rice and a green vegetable.
One thing to note is the cut of meat that you choose when you're getting your ingredients. I think a common mistake is choosing just any cut of beef that has "roast" on the label. But for the tastiest pot roast, you want to make sure and choose a boneless "chuck roast." These are going to have a good amount of marbling on them which will help enhance the flavor in your final product.
Ingredients
Pot Roast:
3 carrots sticks
3 stalks of celery
1 onion
2 teaspoons of thyme
2 bay leaves
Low sodium beef broth
1 chuck roast
About 2 tablespoons of vegetable oil
Pan Sauce:
Drippings from roast
2 tablespoons of butter (I use vegan butter)
1 tablespoon of all purpose flour
Salt to taste
Instructions
Preheat a skillet to medium high heat, add the 2 tablespoons of oil. Make sure you let it get good and hot, to the point where a little smoke comes off the pan. Sprinkle your roast liberally with salt and pepper (I prefer kosher salt and fresh cracker pepper).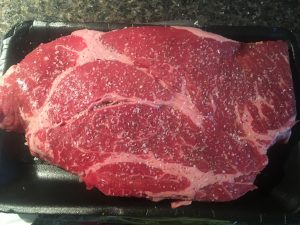 Add your roast to the hot pan and let it cook for about 5-7 minutes. Don't touch it! You will be tempted to turn it before then but don't. After it gets a nice crust on the bottom, then turn it so that the other side gets the same beautiful crust. This will help to seal in the flavors while it slow cooks.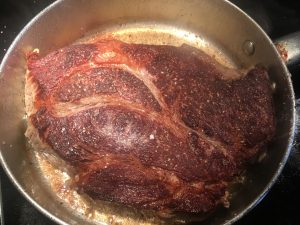 While the roast is browning in the pan, dice up your carrots, celery and onion.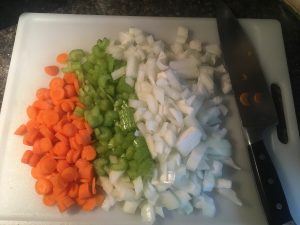 After the roast has browned on both sides, remove it from the pan and let it rest on a plate.
Reducing the heat to medium, add the onions, carrots, celery, thyme and bay leaves. Stir them frequently for about 3—4 minutes or until the vegetables have softened.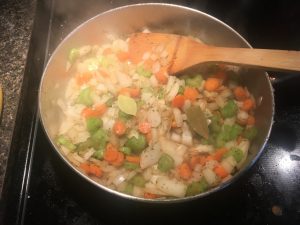 Add your roast back into the pan. Then slowly pour in the beef broth until it reaches about halfway up the side of the roast.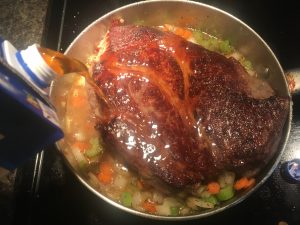 Turn the heat back up to medium high until the broth is simmering nicely into the pan. Transfer all of the contents of the skillet into your crockpot.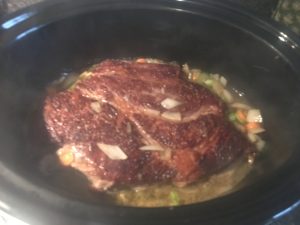 Cook it on high for 5 hours or on low for 9-10 hours. If you're planning to add vegetables to the crockpot, add them 1 hour before serving if cooking on high and 3 hours before serving if cooking on low.
When it's finished, remove the meat from the crockpot. It will be very tender, so I like to use two spatulas to get under it and lift it to a serving dish.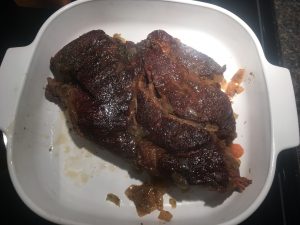 Now, if you have a few extra minutes and you want to make it really good – you should make the pan sauce. Strain the liquid from the crockpot into a bowl and measure out two cups. Save the rest in the bowl just case you need it.
In a small saucepan, melt the butter over medium low heat. After it is totally melted, slowly sprinkle the flour into the butter. Make sure you're ready with your whisk to whisk it constantly.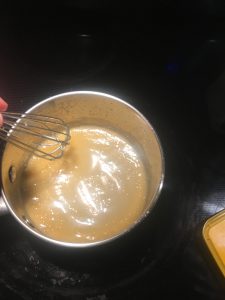 Keep whisking for about 3-4 minutes until the flour/butter mixture is golden. Then slowly – with whisk in hand – start adding the drippings/liquid the roast cooked in.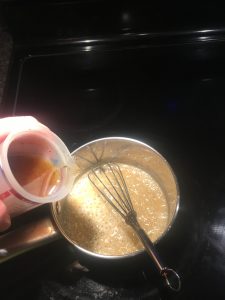 This is the point where you need to whisk it constantly. Keep adding until you reach the thickness you desire. For more thickness, use less liquid… For a thinner pan sauce, use more liquid. After you have attained the consistency you want, simmer it for about 5-7 minutes and taste it. You may need to add a pinch of salt. It may have some of the brown bits from your roast floating around in it – but that's okay, that makes it that much better!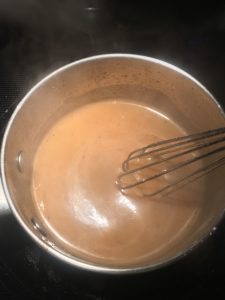 I like to put my roast in a casserole serving dish, slice it and pour the pan sauce over the top.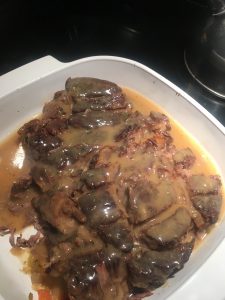 If I've cooked my potatoes or carrots in with the roast, I will surround the roast with the vegetables. For tonight, I had some leftover turnips from our fall garden so I roasted turnips, parsnips, carrots and red onion to serve with the roast.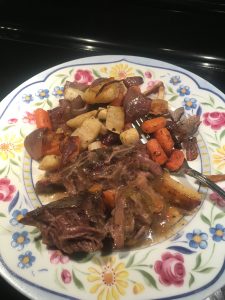 This dish is also really delicious warmed up the next day as leftover pot roast or made into roast beef sandwiches.